About Gigha - 'The Nearest and Fairest'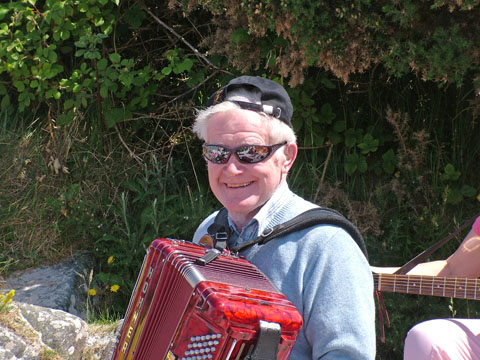 Gigha is on the west coast of Scotland, 3 miles west of the Kintyre Peninsula in Argyll. Northern Ireland is clearly visible to the south, with the skyline dominated by Islay and Jura to the west. Our ferry crews provide a good service for the twenty minute crossing which runs to a more or less hourly timetable.
The island is about 6 miles long and a mile and a half wide at its widest and 100m at its narrowest. In area it is about 6 square miles. The highest point, Creag Bhan, is only 100m above sea level. It has over 25 sandy beaches.
Gigha is warmed by the North Atlantic Drift and has a very mild climate. It has less rain and is less exposed than either Islay and Jura to the west and is drier and more fertile than Kintyre to the east. It is often dry and sunny when the mainland is cloudy and rainy. The seas are crystal clear aquamarine all year round.
Gigha is home to about 150 people. There are about 20 kids in the primary school. Like any community, folk have their differences but Gigha has a justified reputation for being Scotland's 'Friendly Isle'.
Local facilities are the shop/post office, a community owned hotel, a Gigha craft shop and art gallery, a bistro at The Boathouse and a boat and cycle hire. The 'big hoose' is now privately owned but the community owns 60 or so acres of surrounding Achamore Gardens which feature a range of sub-tropicaI frost tender plants.
Who We Are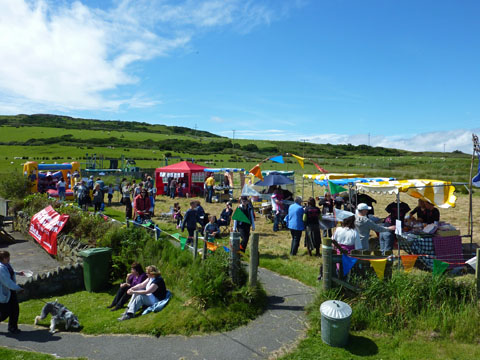 We are a small group of volunteers living on Gigha, who organize the festival every year.
During the first summer after the community buyout in 2002 islanders organized the very first Music Festival as a celebration and from this small beginning today's festival has evolved.
Early festivals owed much to the musical community in Kintyre and featured local musicians such as piper Lorne MacDougall and the lineups were ably assembled by Ross Kennedy: many, many thanks to Ross for his lasting contribution to the Festival.
Since 2010 the committee have booked all musicians and organized all the lineups. We decided to be really adventurous and this is the way we now try to book bands and put our lineups together.
Like many arts events we need grant funding and sponsorship to survive and would like to thank everyone who has contributed to the financial health of our festival since 2002.